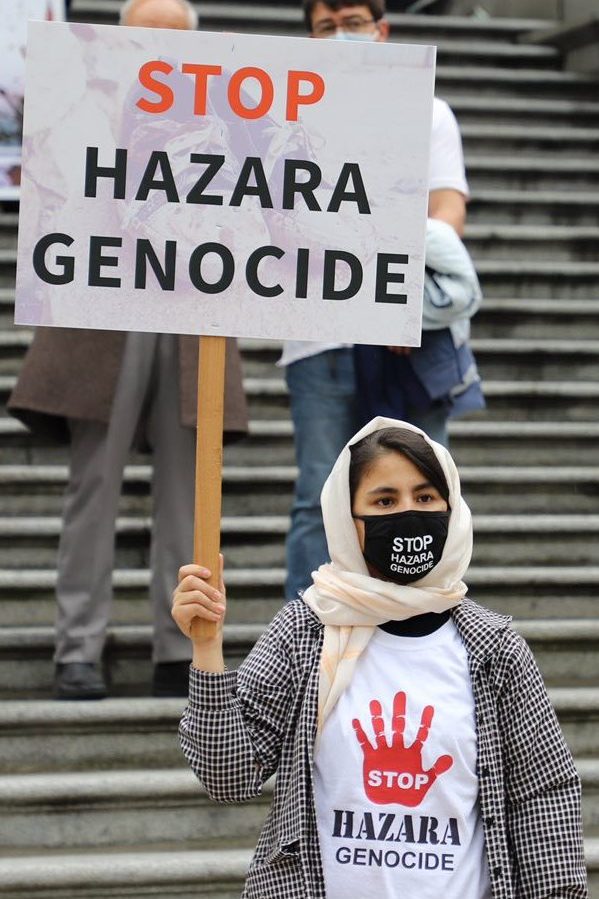 Vancouver protest Against Hazara Genocide
On June 13 /2021 @ 2:30pm, Hazara community of Greater Vancouver organized a protest against Hazara genocide in Afghanistan in the heart of Downtown Vancouver.
Purpose of the protest:
To call on Canadian Government, international communities, United Nation, and Government of Afghanistan to stop Hazara genocide.
After a quick introduction about the purpose of the protest, our MC reminded the participants about covid-19 regulations, resources about Hazara genocide, printed out petition, and ways to stand against extreme human right violations leading to Hazara genocide. After that, Ali Naqi read the statement.
Theme and Content of the protest;
About 150 participant from different age group.
A tent was setup for distributing brochures to raise awareness against human right violations, and collecting signed petitions.
132 printed petition were signed
Dozens of custom made Masks and T-Shirts were distributed among the stuff and participants which were labeled

#StopHazaraGenocide.

Few participants were interviewed by media/social journalists
Protest was broadcasted live by Hazara International, Baba Mazari Organizing committee and community Facebook pages around the world.
Program started at 2:30pm, and ended 4:30pm.
It was great to see a lot of people who stood in solidarity with Hazara people. We hope to see more people learn about Hazaras and their history to raise awareness about Hazara genocide.
At the end, we thank everyone's contribution in making the protest successful and also everyone who joined to stand for justice and to raise awareness about ongoing ethnic cleansing and Hazara genocide.
We, the Hazaras, have a hope to see an end to Hazara genocide, so that our voice for basic human right would be heard and we may live a normal life and be freed from fears of target killing.
Feel free to check www.Hazara.ca for more pictures and videos regarding both Hazara genocide and Vancouver protest.